Introducing a brand new premium experience that takes your favourite songs to a whole other level with exciting new gameplay!
Deluxe Editions introduces challenging new swipes and holds for you to experience!
Deluxe songs will truly test your skills as they're played at a faster speed!
HOW TO PLAY
1 - Unlock Deluxe Editions at Rank 5.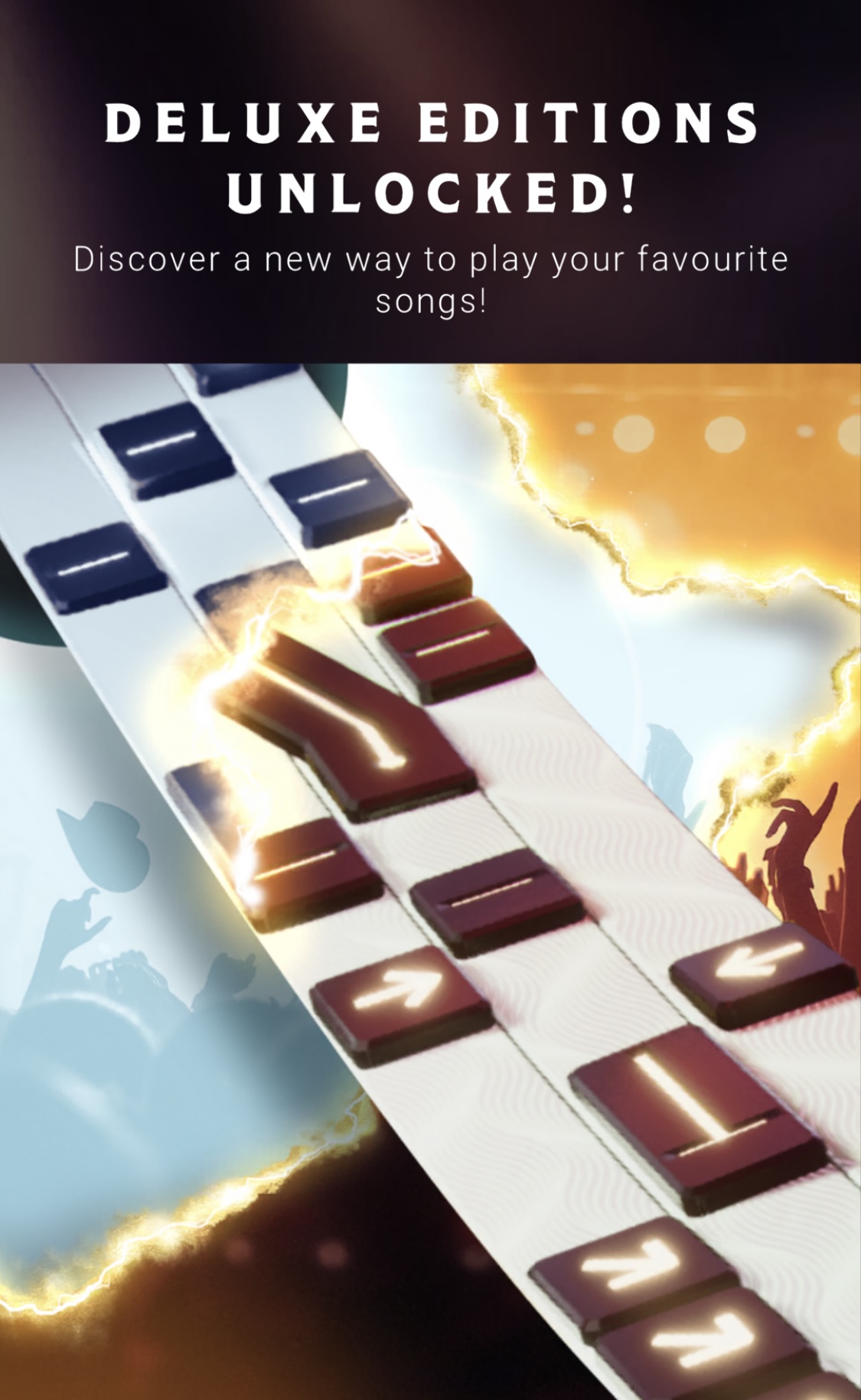 2 - Get a Gold Medal on Standard songs to access their Deluxe Edition.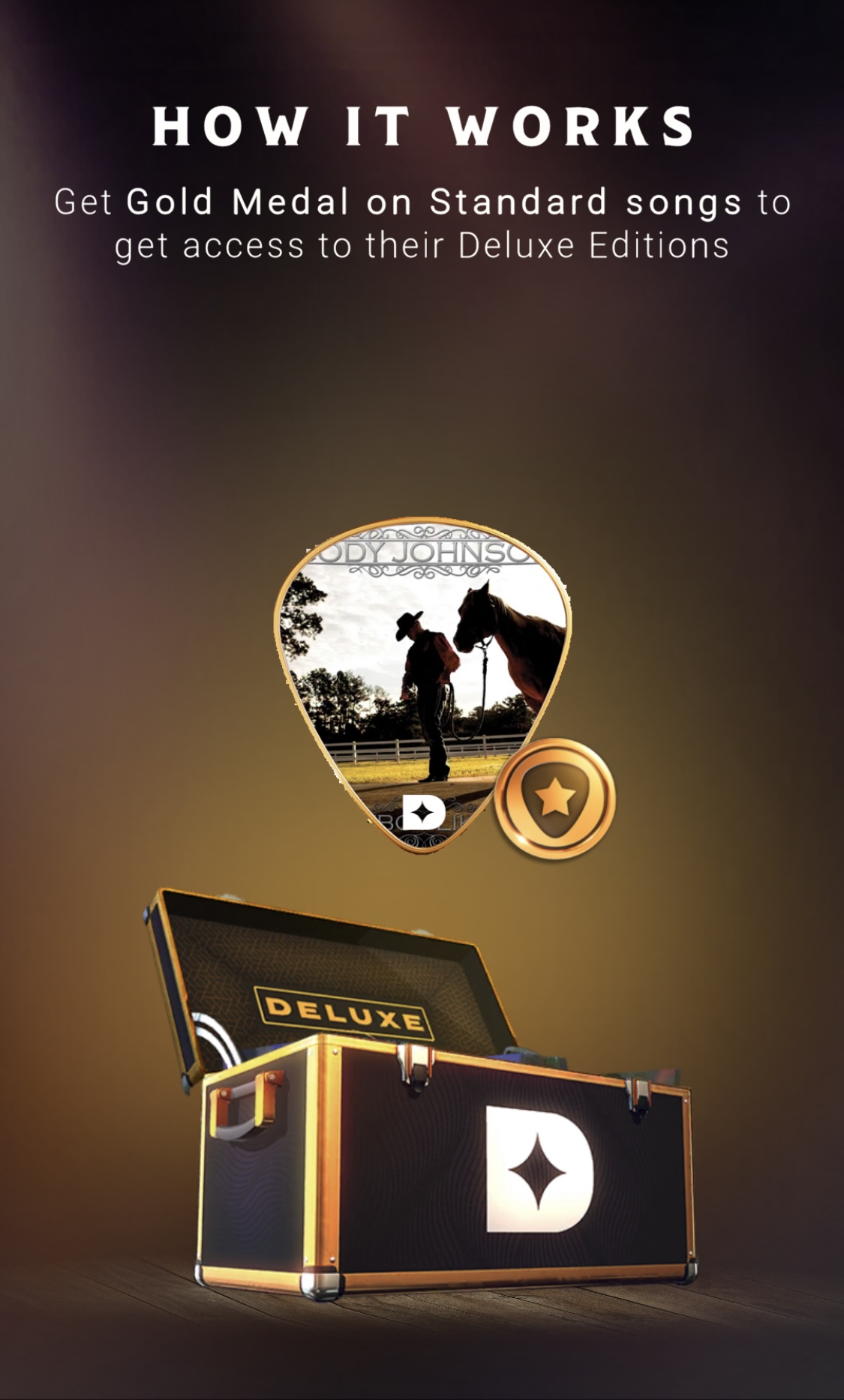 3 - Collect Deluxe Cards to open Deluxe Boxes.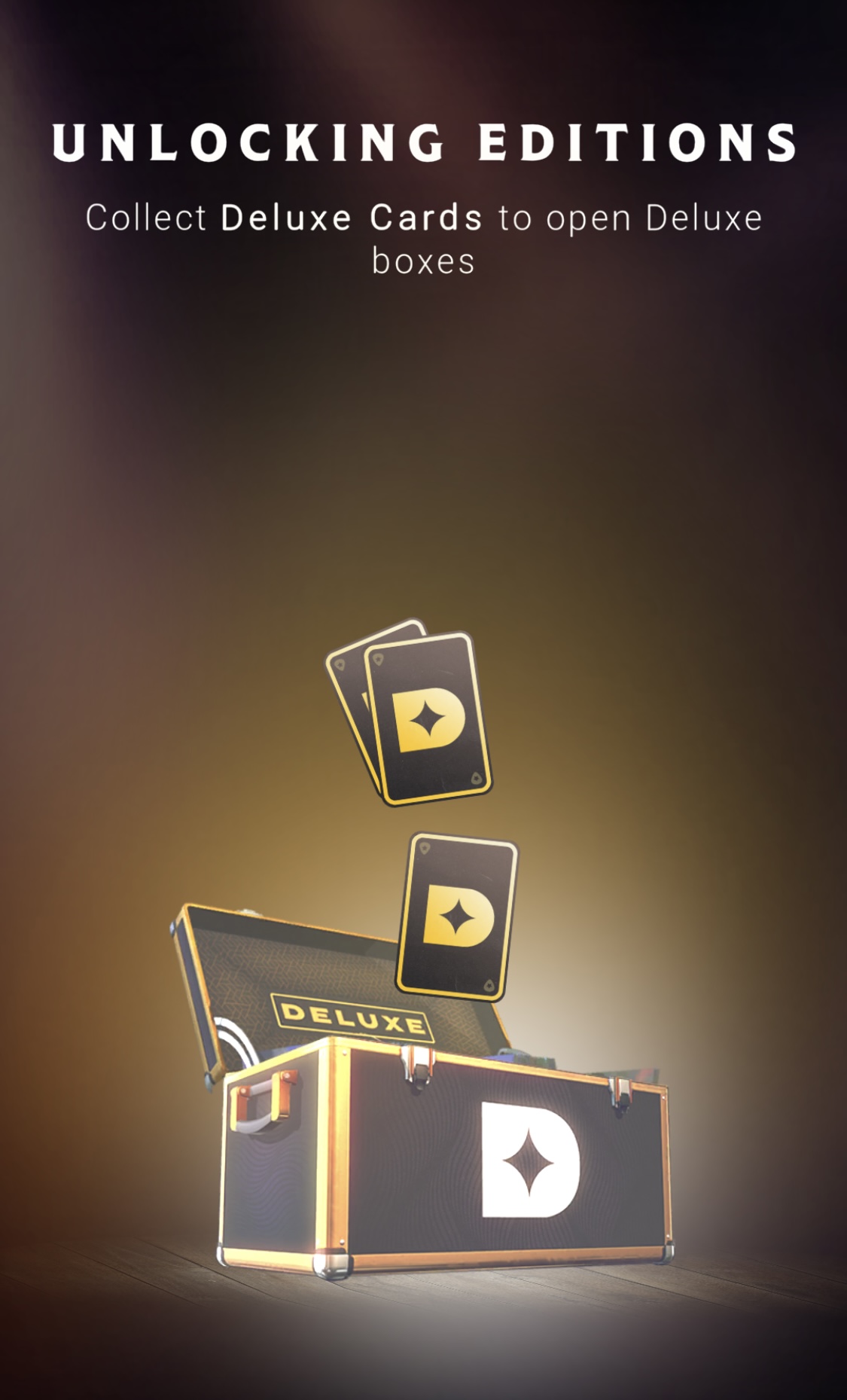 4 - Choose your favourite song to unlock!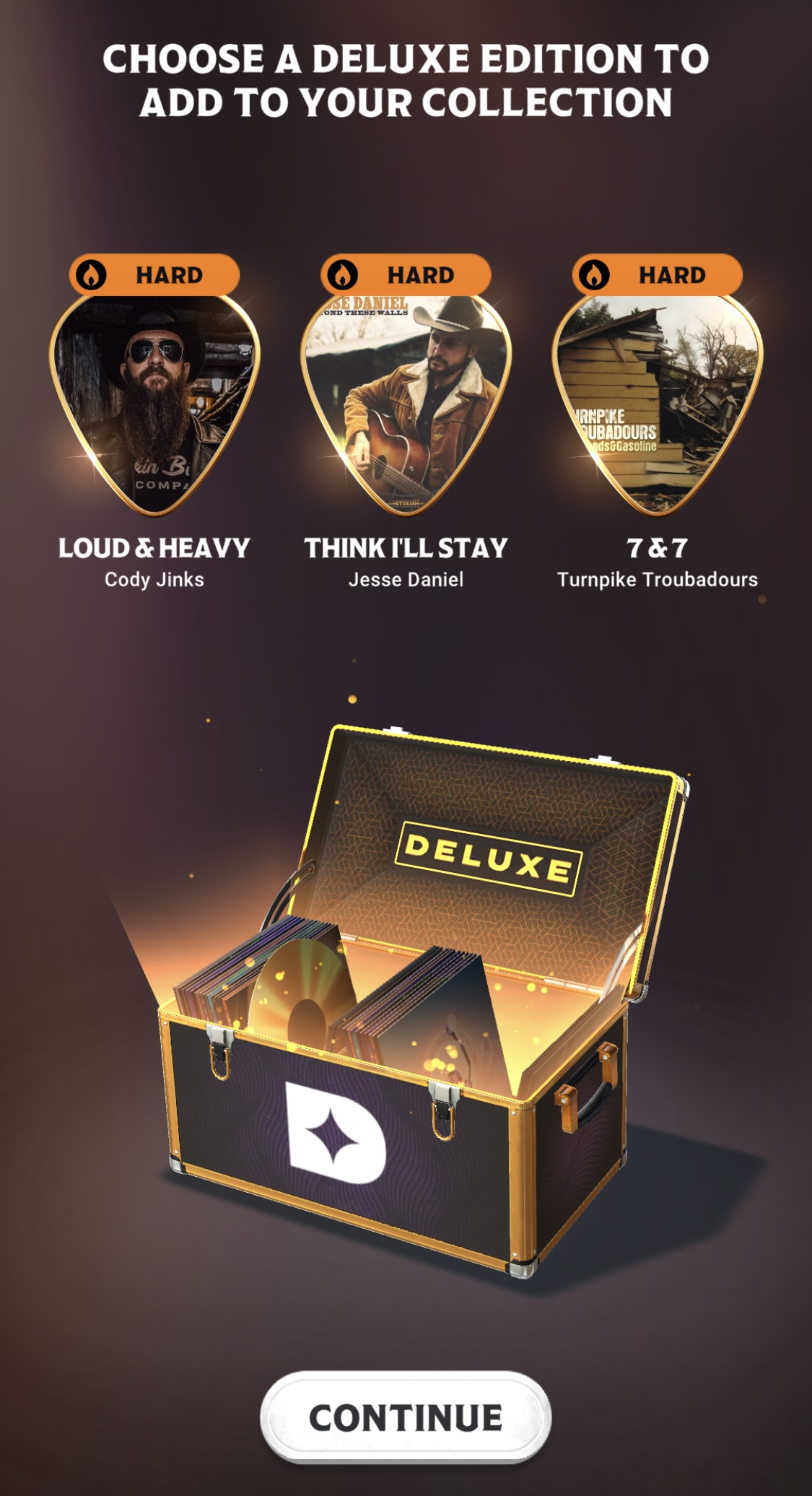 5 - Experience more intense game play and earn Deluxe Medals.
6 - Reach the top of the Deluxe leaderboard.
DELUXE SONGS
Challenge yourself and play xx Deluxe songs now!
| | | |
| --- | --- | --- |
| Song/Artist | Standard Difficulty | Deluxe Difficulty |
| Loud & Heavy - Cody Jinks | Normal | Hard |
| 7 & 7 - Turnpike Troubadours | Normal | Hard |
| Think I'll Stay - Jesse Daniel | Normal | Hard |
| I Hate This - Tenille Arts | Normal | Hard |
| You Look Good in Neon - Mike and the Moonpies | Normal | Normal |
DELUXE CARDS
You'll have a chance to collect Deluxe Cards when opening your slot cases!
If you've unlocked all of the songs in the Journey, you'll also receive Deluxe cards as a replacement reward in Tour Pass and Events.
When you get a replacement reward for cards or a song case, you'll receive 50% of their value in Deluxe cards (rounded up).
For example:
x5 Cards reward will convert to 3 Deluxe cards (2.5 rounded up).
Song case normally rewards 4 cards, so you will get 2 Deluxe cards.
Large song case normally rewards 8 cards, so you will get 4 Deluxe cards.
You can also watch an optional video ad for bonus Deluxe cards.
DELUXE BOX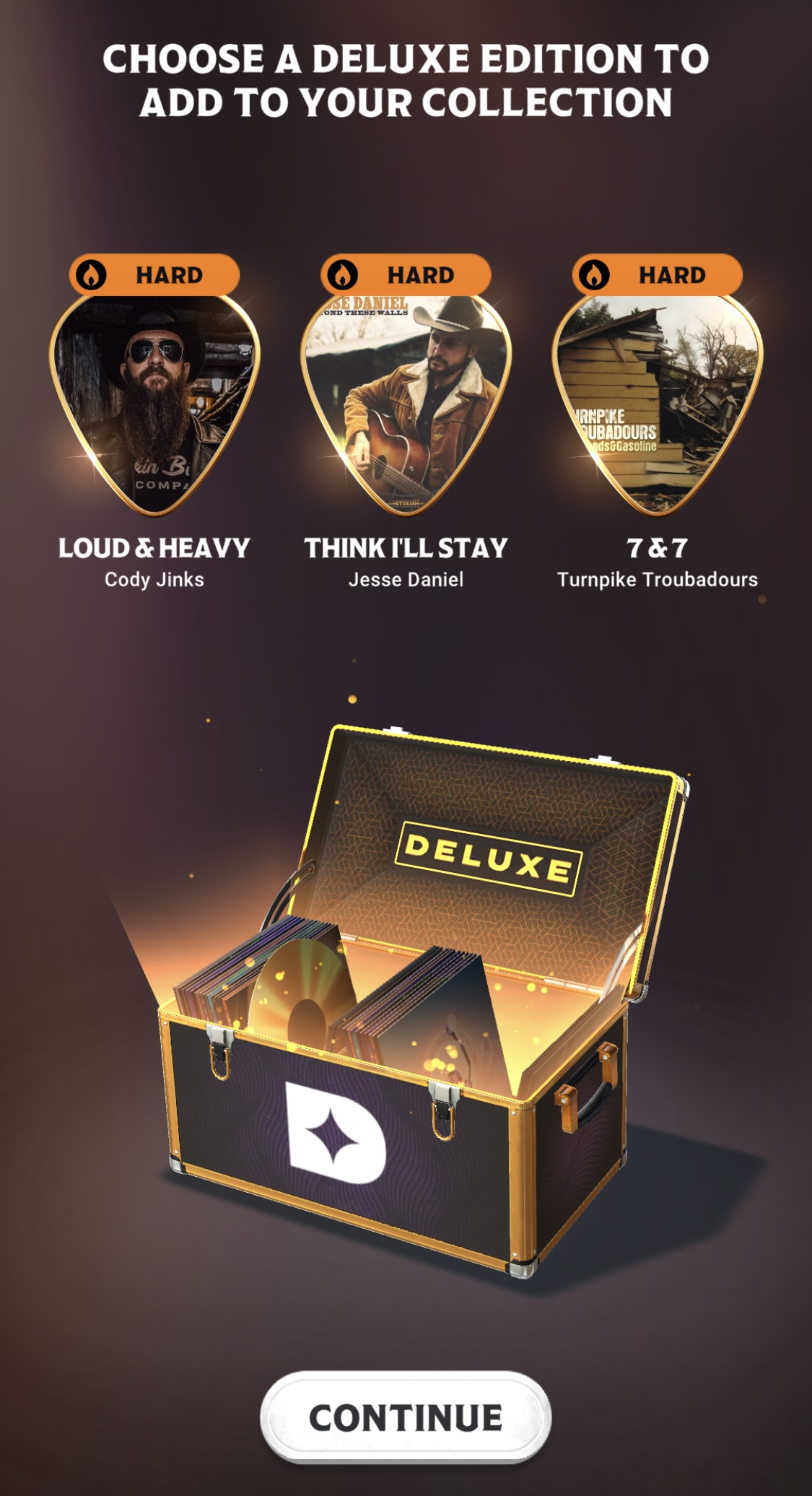 Deluxe songs are added to your Deluxe Box when you get a Gold Medal in the Standard song.
When you've collected enough cards to open your Deluxe Box, you can choose between 3 Deluxe songs to unlock!
FAQS
Q) Can you add Deluxe songs to the Wishlist box?
A) No but you can choose between 3 songs when opening a Deluxe box!
Q) Can you use Rainbow cards on the Deluxe box?
A) No
Q) Can I continue a Deluxe song to keep my streak?
A) Yes but it'll cost slightly more gems
Q) How many Gems does it cost to continue a Deluxe song?
A) 1st continue - 5 Gems, 2nd continue - 8 Gems, 3rd or more - 10 Gems
Q) Will Deluxe songs show up in Daily Shuffle?
A) Yes
Q) Does EasyCue suggest Deluxe songs?
A) Yes it'll prioritise Deluxe songs to play
Q) Can I still earn free Unlimited Play by collecting every song?
A) Yes but this now includes all Journey and Deluxe songs